SudburyCARP very recently gave  $2,500 to the Sam Bruno PET Scan Fund in the Fall of   2012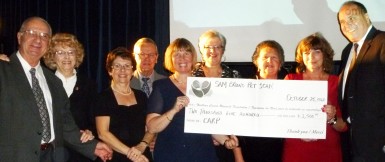 Another donation was made to the Sudbury-Manitoulin Alzheimer Society for $8,317 for the purchase and shipping of a MOTO-Med bike (exercise equipment).
Our chapter raises monies through chapter membership fees, national royalties/commissions and largely through their annual fundraiser – selling tickets for three weeks for the Canadian Hard of Hearing Association for their "Ultimate Dream Home".
Dennis Peroni (CARP treasurer) and Pat Douglas (CARP chair) present a cheque for $8317 to Pat Montpetit, executive director Sudbury Alzheimer Assoc. Standing behind are CARP directors – Roland Lavoie, Irene White, Yvonne Yersh and Alzheimer director, Mary Snow.
Patricia Douglas (CARP chair) receives instruction on how to use the new MOTO-Med bike from Rod Hakansson, the activity director for Sudbury Alzheimer Assoc.