What you missed at the last meeting if you did not attend.
Those who missed our meeting of 19th September missed hearing from our National Community representative, Elise Kayfetz,  a scintillating speaker who took the time to drive to Peterborough and stayed overnight before returning to her Toronto home. She gave a fine report on CARP's aims and objectives. Elise has been an enormous help during the summer in the preparation of all the emails, web postings, and unexpectedly to me, in placing a Robo-call to every member of our chapter for whom we have telephone numbers. Our communication efforts resulted in the largest turnout in a very long time. We hope to have even more at future meetings now that you are aware of the rebirth of Chapter #16. Watch for announcements on Cogeco Community Channel-10, local newspapers, by email and here on the Peterborough web page. We hope by your word of mouth too.
Get rid of that paper pile
Elise was followed by Greg Stulen and his business partner from Molehill Document Management which specializes in the archiving and digitizing of those piles of paper documents and hordes of shoeboxes full of photographs and negatives. If you had everything digitized you would be able to store a small memory device in your safety deposit box (SDB) away from risk of fire or flood. My own documents are stored on a small memory chip slightly larger than a regular postage stamp and I keep it rotated in our bank's SDB so that it is always fairly recently updated
Lend a hand
We tried to get volunteers to form committees to guide our chapter into the future but people were hesitant to come forward due to the fact that our chapter had been almost asleep for a long time but that has all changed now. It is going to be a vibrant chapter where members meet, have fun, make new friends and work to improve our local community as we strive to be the best chapter in CARP! We were very fortunate in having a volunteer as Secretary who will be keeping records of meeting activities and pass the information to the Chapter Internet Communicator who will post it to the web promptly and inform you by email occasionally. We would appreciate having another person volunteer as an Assistant Secretary in the event that our Secretary is unable to attend a particular meeting.
Our ears are open
We are listening to your concerns about meeting time and places, parking, and night time driving. Please bear in mind that there are no easy or instant solutions to such matters and solutions are more readily found when several people work in unison to find solutions to any problem (e.g car-pooling). We enjoy the use of the present large room for our assemblies because Applewood Retirement Residence allows us to use it without charge. That is spelled F-R-E-E. Whether or not it would be available during daylight has not been investigated but we do know that the facility is heavily used during the daytime. There is a good chance that you can find a spot to park in the next property to the west where access to the front door of Applewood is nearby
Since we hope to soon generate some income we need a Treasurer. Our Social Committee will need money to supply light refreshments after meetings end, while new and old friends start to socialize. Can you help with this committee?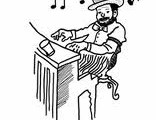 For the information of that committee we have in our chapter a man who can do a fine job of playing honky-tonk music on the piano to get the toes tapping and to juice up the soul. Do we have others who would be willing to entertain us?
New additions at our meetings
Our next assembly will be at 7:30 PM on Thursday October 17th. We will have a speaker on U.S taxation perils faced by snow-birds and much information of concern to anyone crossing provincial or international borders. Mr. Kevin Tomlinson is a Certified General Accountant and a Certified Financial Planner. This promises to be a bonanza of useful information to all travellers. We hope to be able to offer a small door prize and to run a 50/50 draw.
The November meeting will be on Thursday, 21st. Mark your calendar for both meetings
*** Reiteration from previous web postings ***
For the benefit of those members who have missed attending our meetings here is the location information. We hope to see you there in October. Please make a point of using hand sanitizer as you enter the facility.
Where: Applewood Retirement Residence, 1500 Lansdowne Street West, Peterborough.. See map here
What: Chapter #16 General meeting
When: 17th October 2013
Time:7:30 PM
Here is a little more about the proposed Agenda Committee. They would be asked to find and arrange for interesting speakers. Tentatively we have some lined up now although we have not yet scheduled them. I would be happy to give you a couple of names and phone numbers for contact. We hope that you are thinking about giving a helping hand with the proposed committees. Some that are being considered are Ontario211, Central East Community Care and Access Centres, (CECCAC), Important information for travellers, Good advice regarding income taxes, information about Seniors' benefits, fun events for socializing at some meetings and, of course, your ideas of what you want the local chapter to be within the guidelines of the national organization. What do you want to see and hear?
Have you checked out our web page recently? Many postings have been made on the webpage during the summer. After checking our page, look around at what the National organization is doing for us in Advocacy and Benefits. Considering the fact that CARP operates with limited financial resources it tries to do a good job for the members. It cannot take up the battle for all of society's ills.
When joining, renewing, or buying gift memberships for friends and family please indicate that you belong to Chapter #16. This will give us a little credit while simultaneously helping CARP's resources. At the same time your name will be entered for a chance to win a fabulous $20,000 cruise to thePacificIslands and Coral Sea for you and that special someone. Refer to page 19 of September Zoomer magazine for more information. There will be forms at the meeting for you to renew your membership or for the non-members that you bring to the meeting to join. Your renewal gives you membership in our local chapter at no extra charge
You may make constructive comments and constructive suggestions to [email protected] Let us know if you are using the website. If you would like to volunteer now for one of the four committees mentioned in the last email, please feel free to send me an email at the above address.
Many of our members do not have computers or email so it is difficult to contact them. If you happen to know any Zoomers who are not on-line please invite them to our meetings. We are hoping to contact them by using the free support offered by TVCogeco channel -10 and through The Peterborough Examiner. Also please consider joining our telephone committee
Your acting CARP website Communicator.