Information posted October 4, 2013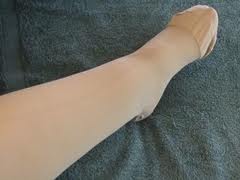 Special Healthy Leg Day for CARP Members!! presented by Shoppers HomeHealthCare, 3023 New Street, Burlington. (Tel: 905 632 2312; Fax: 905 634 4556)
Do you have:
– Tired achy legs??
– Swollen feet & ankles?
– Spider/Varicose Veins?
– Prolonged sitting?
– Prolonged standing?
If the answer is "yes" to any of the above, you could greatly benefit from wearing compression hose! And worn while flying, they can reduce the risk of blood clots! Your Medical Plan may have coverage for medical stockings. A signed prescription is required.
On the morning of Friday October 11 and Friday October 18 (Fittings should be done in morning for best fit.) our store will host a HEALTHY LEG DAY just for CARP Members to be fitted for compression and receive 20% OFF the regular price! You will also receive OPTIMUM POINTS on the purchase!
Bring your script and join us for coffee and muffins.