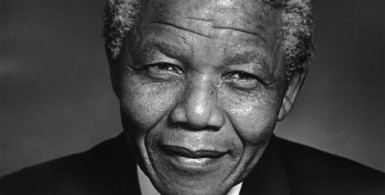 The entire world reacted as one this week to the long-expected death of Nelson Mandela, the greatest activist and statesman of our time. Irresistibly drawn by the poignancy of the moment, people left their homes in bathrobes and pyjamas, gathering in front of the Mandela family home to dance, sing, light candles and celebrate this long, remarkable life. Around the world, people expressed their admiration, their respect and their love for this extraordinary man.
His story is one of successive instances documenting the triumph of the human spirit.  He taught the world that one person could not only create change but have a lasting and profound impact.
From the brilliant young lawyer and boxer to the frail elderly statesman whose mere appearance could silence mobs and resolve crises, Nelson Mandela showed the world how it was done. He was born in 1918, at a time when black South Africans had virtually no rights, segregated under the brutally enforced apartheid system that confined them to powerless ghettoes and dead-end jobs.
A pacifist by conviction, he was seized early on with the need for justice in South Africa. However, he eventually joined a movement that saw no hope of change without insurrection, and this is what led to his incarceration in a tiny cell on Robbin Island for 27 years.
With no fear in his heart, Mandela stood up to those who sought to oppress others. He was willing to give up his own life for the principles of democracy. Speaking at his own defense case in Pretoria in 1964, he said:
"I have fought against white domination, and I have fought against black domination. I have cherished the ideal of a democratic and free society in which all persons live together in harmony and with equal opportunities. It is an ideal which I hope to live for and to achieve. But if needs be, it is an ideal for which I am prepared to die."
During the three decades of his incarceration, he was forced to do hard labour, wielding heavy instruments to chip away at bright white limestone in the blazing sun without protective eye-gear. He remained a hero in the eyes of millions, both in his own country and internationally.
As soon as he was released, he became the first Black and democratically elected President of South Africa and effectively ended apartheid.  Through his incredible activism and unrelenting passion to end racial segregation in South Africa, Mandela worked together with other activists to abolish apartheid, paving the way for true equality in his homeland.  He set an example that captivated and inspired the entire world – the sheer immensity of what he had accomplished lost on no one.
He was inaugurated in Pretoria, the same town in which he had once stood to be sentenced to jail. During his inaugural speech, he said:
The time for the healing of the wounds has come. The moment to bridge the chasms that divide us has come. The time to build is upon us. We have, at last, achieved our political emancipation. We pledge ourselves to liberate all our people from the continuing bondage of poverty, deprivation, suffering, gender and other discrimination. We succeeded to take our last steps to freedom in conditions of relative peace. We commit ourselves to the construction of a complete, just and lasting peace. We have triumphed in the effort to implant hope in the breasts of the millions of our people. We enter into a covenant that we shall build the society in which all South Africans, both black and white, will be able to walk tall, without any fear in their hearts, assured of their inalienable right to human dignity – a rainbow nation at peace with itself and the world.
By the time of his release on February 11, 1990, his tear ducts were completely destroyed. As a result, he was among the very few to remain dry-eyed as he insisted on forgiveness: "To go to prison because of your convictions," he said, "and be prepared to suffer for what you believe in, is something worthwhile. It is an achievement for a man to do his duty on earth irrespective of the consequences."
Prisoner number 46664 became perhaps the most beloved figure of our time – a symbol for hope and peace – a reminder that light can always emerge from the darkness. The power of forgiveness carried South Africa through a cathartic process, acknowledging the terrible events of its past and then moving on to give birth to a genuine democracy. For these reasons and many others, the world bowed this week to the remarkable legacy of Nelson Mandela.
President Obama said it best: "He no longer belongs to us — he belongs to the ages."
May he rest in peace and may his example be remembered – always.