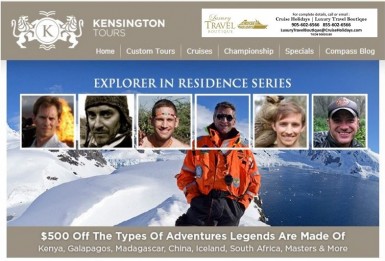 Lola Stoker, long-time member of the Boulevard Club and Co-Owner of Cruise Holidays | Luxury Travel Boutique, a Mississauga based cruise and travel agency also servicing Etobicoke, Brampton, and Toronto, presents Travis Steffens – Madagascar Primatologist & Conservationist and Kensington Tour Explorer in Residence at the Boulevard Club on Wednesday, April 2, 2014 at 7:00 pm.
Travis Steffens has a BSc in Primatology and an MA in Anthropology from the University of Calgary, and is currently a PhD candidate in Biological Anthropology at the University of Toronto. Travis has been involved in primate research since 2002. He has conducted many research projects on endangered primates in both Belize, Central America, and Madagascar.
A primatologist with a passion for conservation, Steffens has dedicated his life and research to community development efforts, environmental education, eco-tourism projects, and international awareness in Madagascar. Considered an expert in the field, his current research is on the impact of habitat loss and threat of extinction posed to lemurs, a primate with 100 different species (many of which are endangered) endemic to the isolated African country.
In 2010, Travis created and implemented a Lambas for Lemurs project in Madagascar with his colleague Megan Shrum. Travis's current research includes studying the impact of habitat loss on lemur species richness and occurrence in Madagascar. Travis is the founder of Planet Madagascar, a community conservation, education and development project that aims to conserve Madagascars biodiversity while capacitating and improving the lives of people who live there.
Kensington Tours, a Toronto based Tour Company specializing in luxury private guided tours, is pleased to have Travis Steffens on their team as an Explorer in Residence.
If you are interested in participating in this free presentation, please contact Lola Stoker at Cruise Holidays | Luxury Travel Boutique at 905-602-6566 or [email protected]