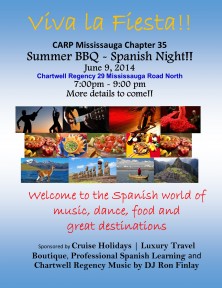 Welcome to the Spanish world of music, dance, food and wonderful destinations! Cruise Holidays | Luxury Travel Boutique and Professional Spanish Learning present the CARP Mississauga Summer BBQ with a Spanish Theme. Ron Finlay from Perpetual Rhythms will provide Spanish music and demonstrate some Spanish dance steps. Come and learn a few words in Spanish, a few Spanish dance steps and what the Spanish speaking vacation destinations have to offer!!
More details will come, but we intend to keep the price the same as last years BBQ. This year, the CARP Mississauga Chapter 35 Summer BBQ will be held at Regency Chartwell, 29 Mississauga Road North at the final monthly meeting at Regency Chartwell. The date will be Monday, June 9, 2014 from 7:00 pm to 9:00 pm.
Everyone is welcome, but in order to determine how much food, please let us know if you intend to come. There will be prizes, food and special presentations of exotic Spanish language travel destinations, We are trying to arrange musicians or dancers to perform for us. Details will be provided soon!
Cruise Holidays | Luxury Travel Boutique is a luxury cruise travel agency based in the Mississauga, Etobicoke, Brampton, Toronto area serving clients anywhere in Canada and the USA.
Professional Spanish Learning is a Mississauga based Spanish language school offering Spanish language courses for corporations, individuals and travelers using a cultural- technical-business approach in a conversational environment.
Ron Finlay and Perpetual Rhythms will provide Latin music and dance lessons! Ron Finlay is an electrical and acoustics engineer (since 1980), a Ballroom and Latin Dance teacher (since 1976) and a professional DJ/MC (since 1981). He is a two-time National Presidents Award winning Disc Jockey/Emcee Entertainer having been presented with the first ever such award and is also the first and only DJ in Canada to have been awarded twice.