Information posted May 2, 2014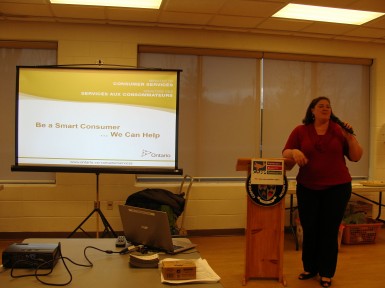 For our April Community Meeting in both Milton and Burlington we invited the Ontario Ministry of Consumer Services to talk about our rights as consumers and to educate us on the many pitfalls that should be avoided. Knowing our rights and knowing the right questions to ask before entering into any agreement will go a long way towards making us better consumers.
Ministry representative Michelle Forlone gave both an excellent presentation covering many topics and also ensured everyone gained maximum benefit by inviting questions and discussion with her audience. She also had a lot of handouts available about all of the topics she covered.
The Ministry has an excellent website simply packed with the sort of information you need to know. This website is well worth a visit, please CLICK HERE
Following are more photographs from the Burlington meeting.