Information posted August 5, 2014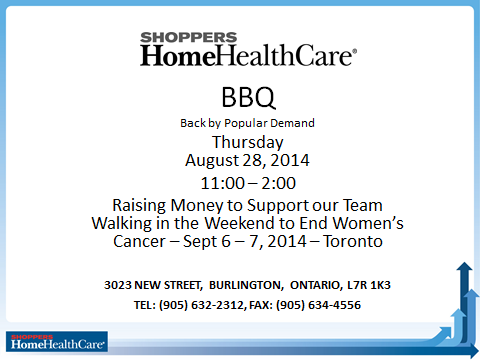 Shoppers Home Health Care has teamed with Shoppers Drug Mart again this year to raise money for the SDM Weekend to End Women's Cancers. The walk is onSeptember 6 and 7and all the stores will be holding special events to raise funds that will support Breast and Gynecological Cancer Research, Treatment and Services.
"Last year we collectively almost doubled our Target! This year we plan to go even higher!
We need the support of our Community and so on Thursday August 28, the Burlington Shoppers Home Health Care in Roseland Plaza (New St and Guelph Line) will be holding a Charity BBQ and Auction from11 AM until 2 PM. Please join us for some food and fun – and a really great cause!
And any donations of items to auction, food, etc. (even cash) are welcome!! 100% of the funds we take in goes to the Walk".