Langley 2014 BC Seniors Games
Everyone Wins!
There are a number of sports at the B.C. Seniors Games that can test the physical mettle of folks of any age. From cycling to swimming to dragonboat racing, some sports demand strength and endurance. There are also a number of events that emphasize with reflexes, patience, and intelligence over raw physical power.
With the B.C. Seniors Games coming to Langley starting this Sept. 9th to 13th, there is a chance for local seniors to participate and compete with people from around the province in a variety of these activities.
"Our motto of Everyone Wins refers to all the participants, volunteers, spectators, sponsors, businesses and local residents who will benefit from the staging of this years competition. With possibly the most significant win being the motivation and admiration we all experience watching the many physically active and socially engaged seniors in action making these years the best years of their life."
Milt Kruger
President, 2014 Langley BC Seniors Games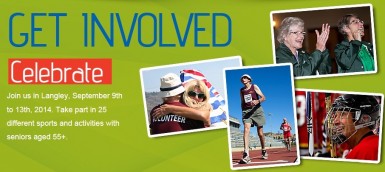 www.2014bcseniorsgames.org