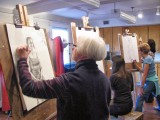 For more than 20 years, the Avenue Road Arts School has been the place to experience creative discovery, to ignite the imagination and to learn new skills. Adult classes include Painting, Pottery, I Wish I Could Draw, and Singing Broadway Showtunes. Classes available for the absolute beginner as well as the more seasoned artist.
The environment is student-focused one of high quality arts instruction in a warm and supportive environment. Andy Barrie once said we manufacture epiphanies. James Adams of the Globe and Mail claimed that we churn out inspiration. What sets the Avenue Road Arts School apart is in the reviews our students give usan informal, open feel fabulous teachers good solid instruction classes are small no stress it feels like a second home critiques are gentle and optional. teachers take the time to get to know their students and of course — it doesnt matter if youre good.
CARP Members receive a 15% discount ($40-$60- Value)
Visit www.avenueroadartsschool.com . Use Promotional Code CARP for your 15% discount.