As the world remembers and honours the sacrifices made by soldiers on November 11th, we recommend you take a moment to read about the breathtaking and moving London poppy memorial, seen here: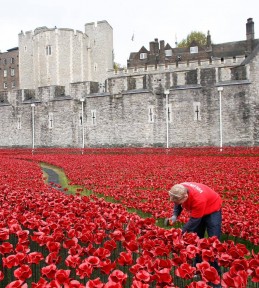 A red flood spreads out before us as we emerge from a door in a wall. Ceramic poppies bleed from the Weeping Window in the bastion wall on the other side, rise in a wave over the causeway, filling the 10-hectare moat of the Tower of London.
Dressed in dark blue tunics with red trim, emblazoned with ER on the front, and high, brimmed hats with a Tudor rose, Beefeaters move through the field, as if on cue. They look like characters from a child's imagination in a surreal, red landscape. High above us, thousands of people line the moats outer wall to witness the living theatre that marks the centenary of the start of the First World War.
Closer to home, we remember that over one million Canadians served full-time in the armed forces of the second world war. The Globe and Mail spoke to five WWII veterans who answered the call. They are fascinating and heart-rending stories. Four of the five were featured as part of Historica Canada's Memory Project, which features a wealth of stories and historical images.
As we remember it is worthwhile to note that Canadian Veteran Lawrence Vaincourt's Just a Common Soldier, which is read around the world on this day every year, was inspired by the author's sadness for the shrinking ranks of veterans and frustration for the lack of care afforded to them. The poem rose to fame after being republished in an Ann Landers column. The Toronto Star has a fascinating interview with Mr. Vaincourt's son, Randy, in which the history and relevance of the poem is discussed:
While perhaps less known to Canadians than John McCrae's "In Flanders Fields, Vaincourt's Toronto-based son Randy Vancourt says that as Nov. 11 approaches, he fields hundreds of requests from newspapers, including The Washington Postand Los Angeles Times, veterans groups and artists in literally every English-speaking country to republish the 10-stanza poem.
"It keeps popping up in a million different locations," he said. My dad felt veterans were being forgotten. It was frustrating. They came back from the war and carried on with their lives, and only in later years realized how forgotten they had been.
The discontent with veteran's affairs is not limited to poetry. As reported by CBC News, Canadian Veteran's Advocacy is ramping up to protest certain changes and pension issues.
This Remembrance Day, with the loss of Cpl. Nathan Cirillo so fresh in our hearts and minds, a day to remember, honour and give thanks to soldiers past and present for their tremendous sacrifice and service is a very important day indeed.