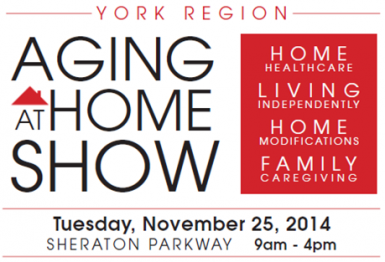 Join CARP-Markham Richmond Hill and many of its sister Chapters for a fun day of seminars, exhibits and expert speakers on Tuesday November 25th, from 9:00 AM to 4:00 PM at Sheraton Parkway (600 Highway 7 East, Richmond Hill, ON L4B 1B2). When we are young, we don't think about independence, but as we age, being able to do what we want, and where we want become more and more of a concern.
Everyone desires to remain independent for as long as possible and for many people that means being independent at home.
Healthy aging is now top of mind for many people in York Region and their families. This free event provides an opportunity to learn more about what you can do to stay active and remain independent. Learn from professionals about better physical health, mental health, nutrition, caring for aging parents / spouses / friends / relatives, long term care, retirement living, modifying homes, legal and financial issues and new technologies that can help.
---
Topic:  York Region Aging at Home Show When:Tuesday November 25th, from 9:00 AM to 4:00 PM Location: Sheraton Parkway 600 Highway 7 East, Richmond Hill, ON L4B 1B2 (Show in Google Maps)