Information posted December 2. 2014
Our social evenings in both Milton and Burlington were a big success. We thank everyone who attended and particularly for the generous donations to the Salvation Army Food Banks in those communities. As promised the "Not for Hire Band" provided great evenings of entertainment with their varied repertoire of songs and instrumentals and soon had the audience clapping and singing along.
We would like to thank our sponsors who made our social evenings possible. These were ListenUP Canada!, Canadian Christian Tours, Lioness Creations and Chartwell Oakville Retirement Residence, who provided an excellent variety of food. Please support our sponsors, they play an important role in enabling Halton Chapter to not only hold our social evenings but also to bring our monthly meetings to both communities.
As you may already know we like to take a few photographs during our meetings that hopefully may encourage those who have not yet attended to consider doing so in the future.
Beginning with Milton….
Good food……provided by Chartwell Oakville Retirement Residence, a sample of which is shown below…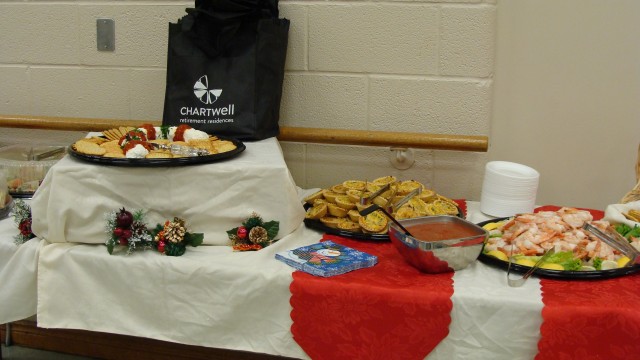 Good music…..with the "Not for Hire Band"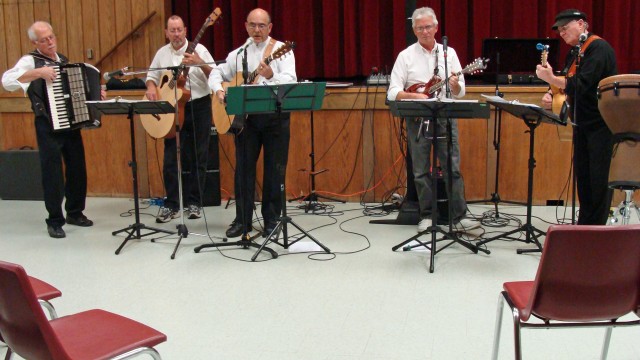 Good prizes…..created by Lioness Creations and sponsored by Halton Medichair (wreath-top), Sherri Moro Realtor  (cactus-bottom left) and Lioness Creations (floral creation-bottom right)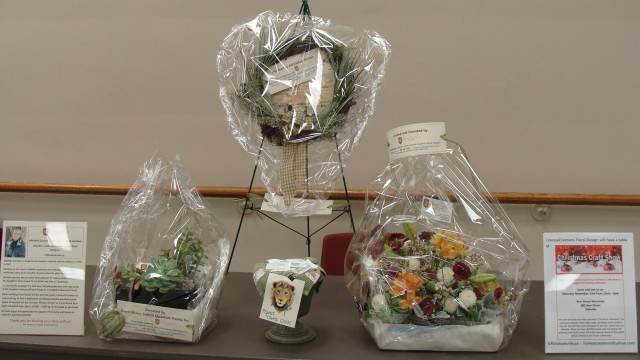 And with additional prizes donated by GTA Home Health Care (wine) and ListenUp Canada (telephone) all made for very  happy prize winners…..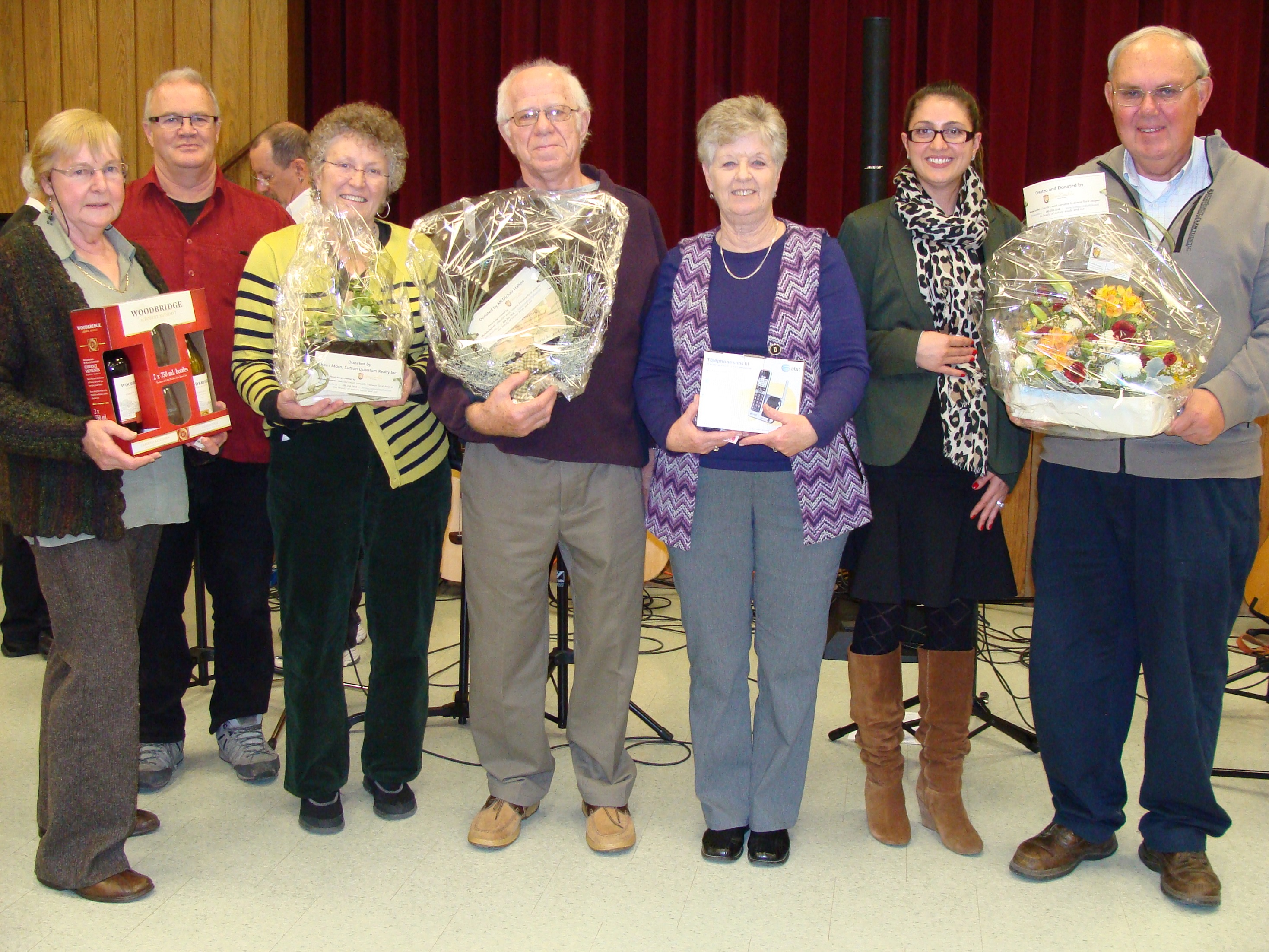 From left to right our winners are Pat Moore (wine), John Comber from Lioness Creations,  Beverley May (cactus), Walter Bergsma (wreath), Jean Ridd (telephone), Christine DeLuca from ListenUp, and Jim Dallimore (flower arrangement).
After an excellent evening at Milton we were looking forward to a repeat at Burlington and with well over 100 members and their friends in attendance we were not disappointed.
With such a good crowd a long line up was necessary to get to the excellent supply of food once again generously provided by Chartwell Oakville Retirement Residence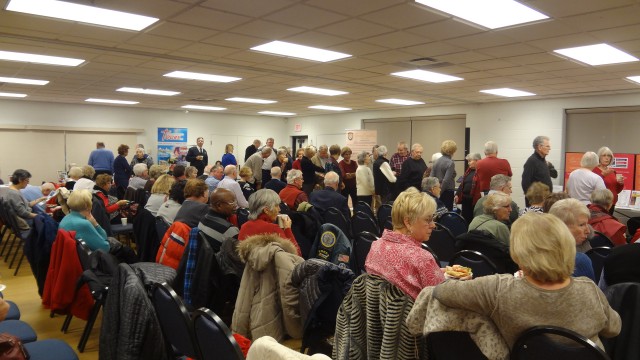 With everyone well fed our band was raring to go….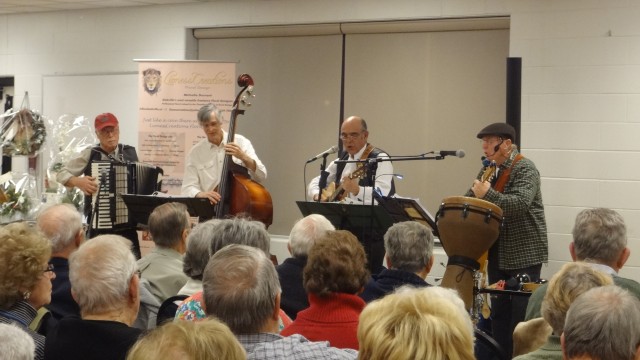 We did take a short break to allow more time to chat with your neighbours…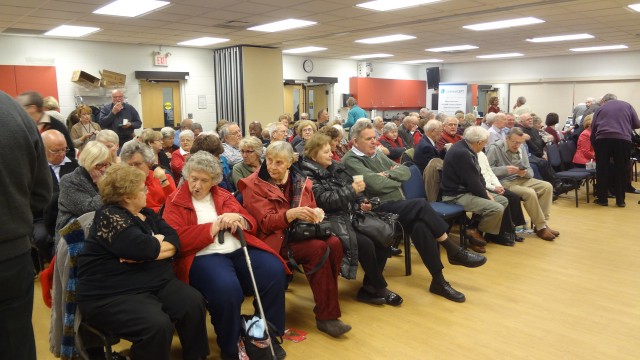 And then it was on to more music….and also time to volunteer to help with the accompaniment…..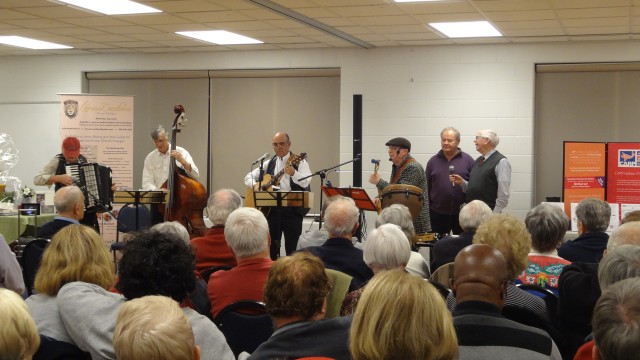 Michelle Durrant of Lioness Creations is shown here with her floral arrangements which she once again contributed the for the prize draw…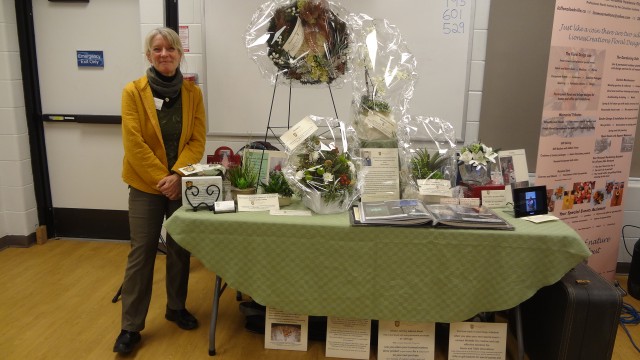 And our winners are shown below….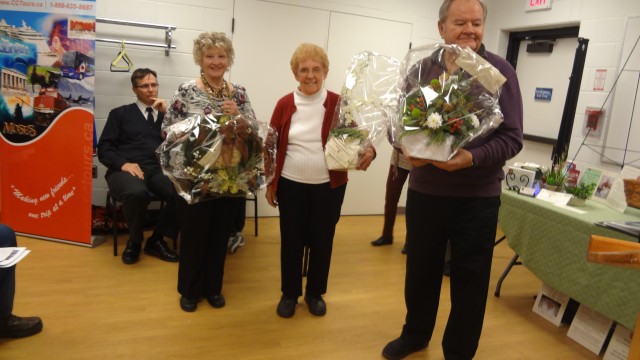 Our November socials bring our meetings for 2014 to a close and we look forward to seeing everyone again in January.