CARP Cares—Be Safe, Be Visible
February, 2015 Every year there is a surge in the number of pedestrians who are struck by vehicles on Canadian streets in the dark winter months. Police statistics and studies report crosswalk collisions have been rising. Early darkness, bad weather and pedestrians' wearing dark clothing are a lethal combination and whether the fault is with pedestrians or drivers, the result is far too many pedestrians end up injured or dead.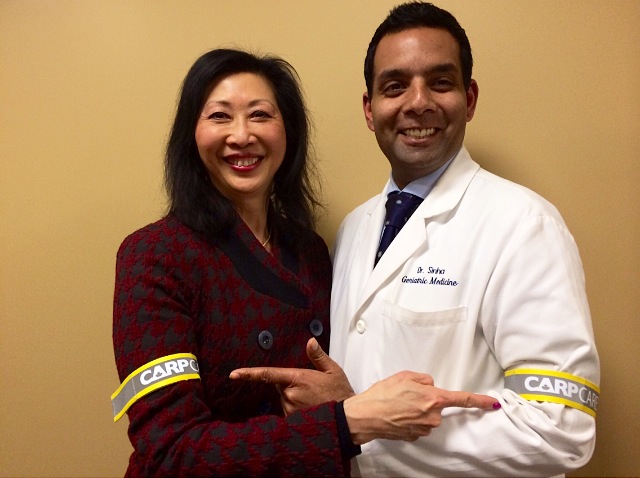 Many pedestrians think, just because they see the vehicle, the driver can see them. But, it doesn't work that way and such assumptions all too often have fatal consequences. The repeated tragedies of people, young and old, being killed or injured in collisions with vehicles, especially in the darker winter months, needs to stop.
Here are some things that will reduce the risk of pedestrian-vehicle collisions:
• Eliminate distractions; put away the smart phone, when crossing the street;
• Always look left and right before crossing the street, especially at corners and make eye contact with drivers.
• Increase your visibility by wearing visible reflective clothing.
While we can only encourage pedestrians to pay greater attention at night, we can help make them more visible. CARP has teamed up with McLennan Insurance to issue CARP CARES Reflective Arm Bands. We are distributing the CARP CARES Reflective Arm Bands to our Chapters throughout the country and want our members to wear them. It's our way of trying to make the streets and our members a little safer at night. Click here to find your local CARP Chapter.