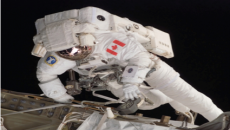 Live from CBC Radio Program Quirks & Quarks with Bob McDonald
"CANADIAN SPACEWALKERS"AN ALL AGES EVENT — APRIL 14, 2015
Canadian Spacewalkers", is his new book about the 3 Canadian astronauts who put on spacesuits and stepped outside the international space station. His presentation includes spectacular photos and amazing stories of the ultimate high adventure.
Mr. McDonald is a master at presenting science stories in a way that interests and excites people regardless of age. You are invited to bring teens and school-aged children to share this event and have their imaginations stimulated.
Copies of his new book will be available.
7:00 pm April 14th at the Cook Street Activity Centre 380 Cook Street in the Cook Street Village
$10 adults, $5 Students and under 12 are free.
Space is limited. To reserve call (778) 667-1386 or e-mail: [email protected]