Information posted July 5, 2015
Our end of season celebration for 2015 was a huge success. We had an excellent turn out of more than 170 members and their friends and with 29 sponsors, light entertainment and excellent speakers this made for a memorable and worthwhile evening. Doors opened at 5.15pm and the room soon began to fill as everyone took advantage of this time to visit and chat with our sponsors. In addition to thanking our many sponsors for their generous support we would also like to recognize The Chartwell Oakville Retirement Residence who once again provided an excellent variety of food.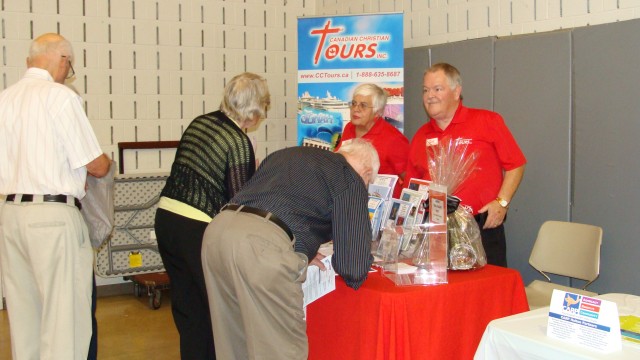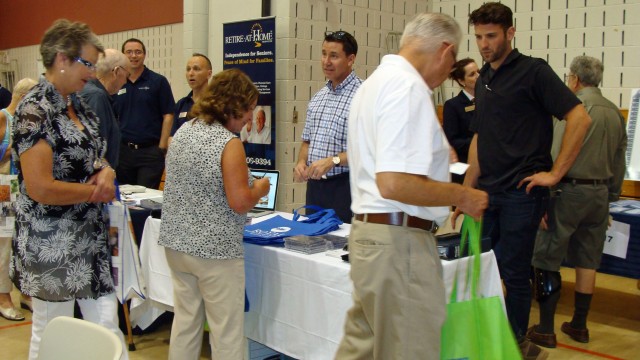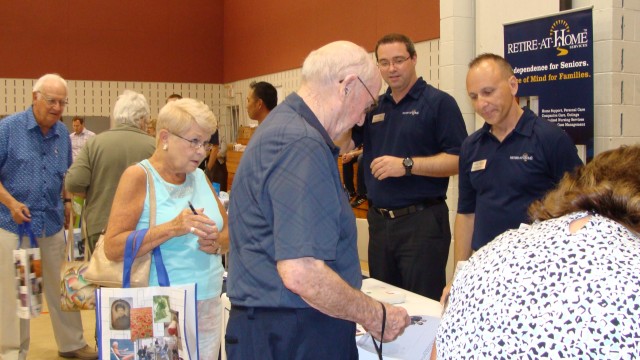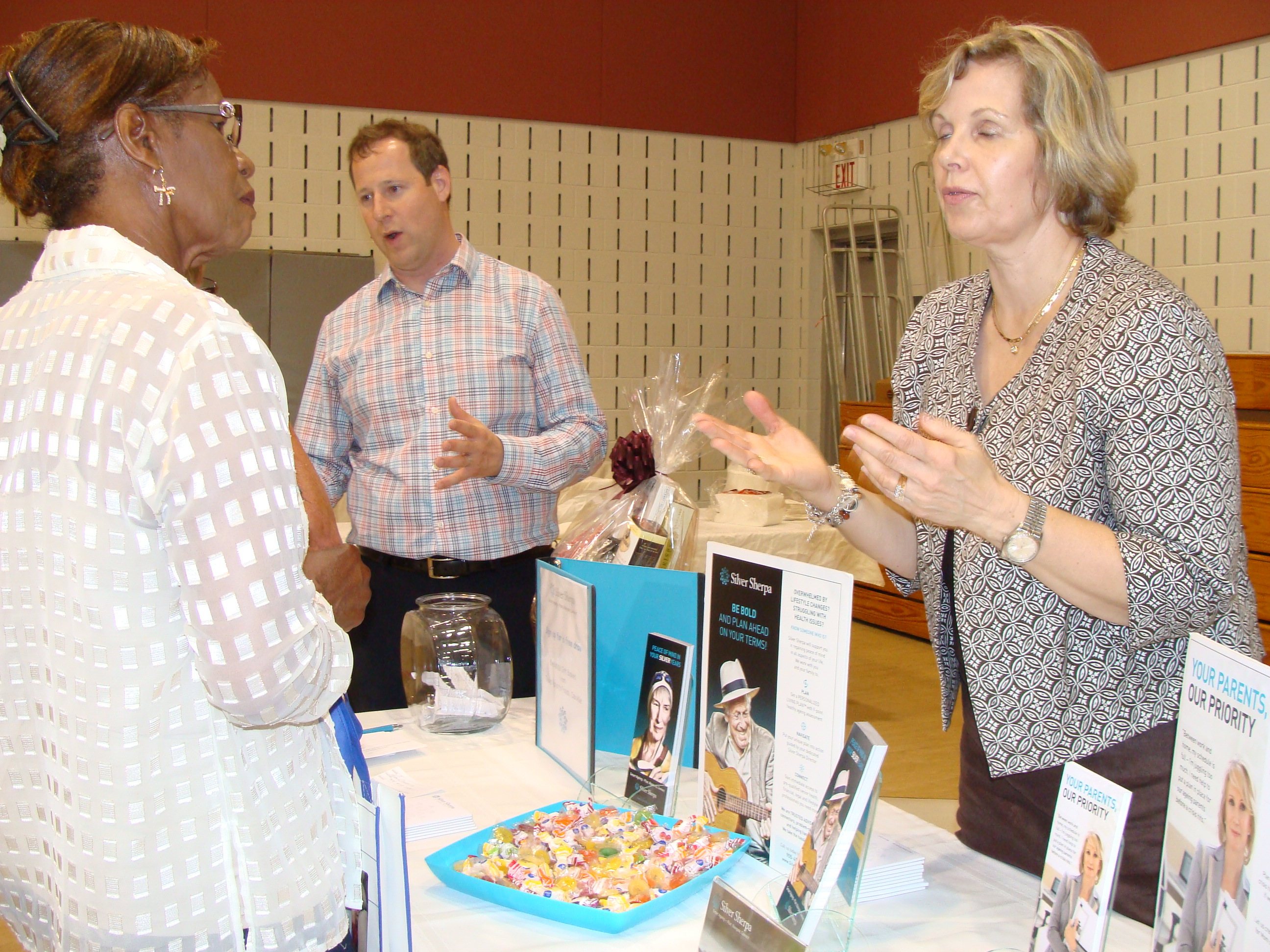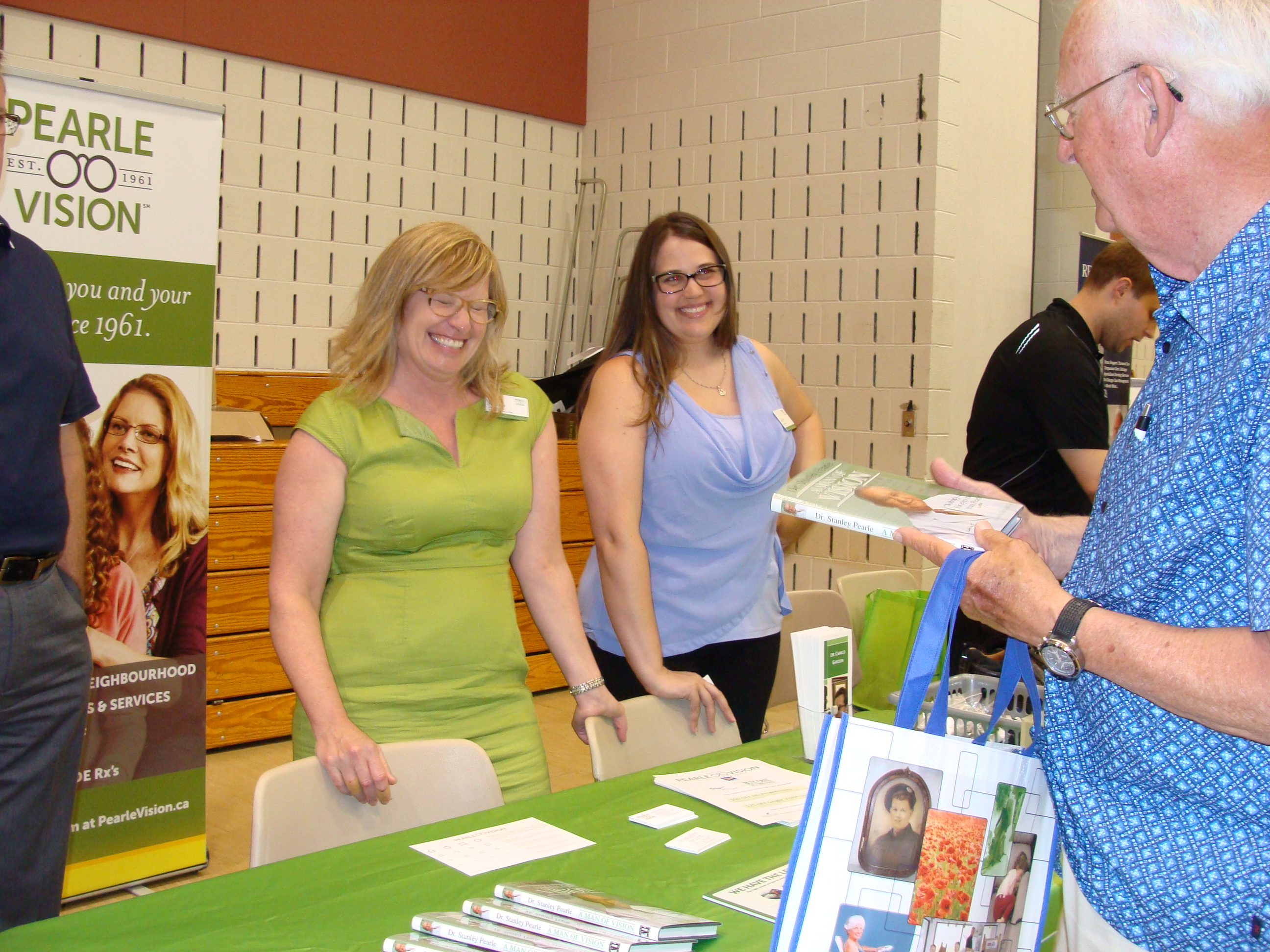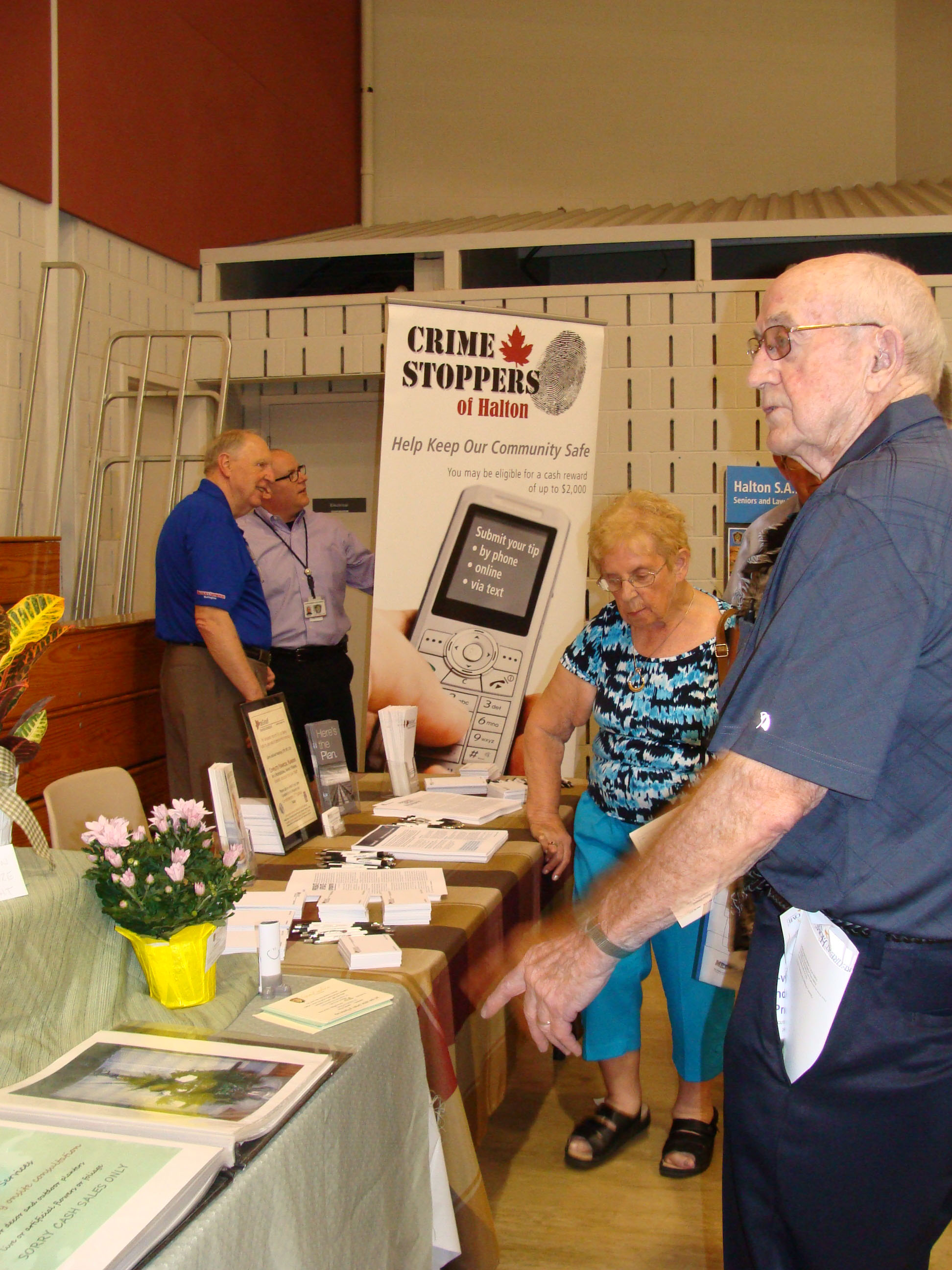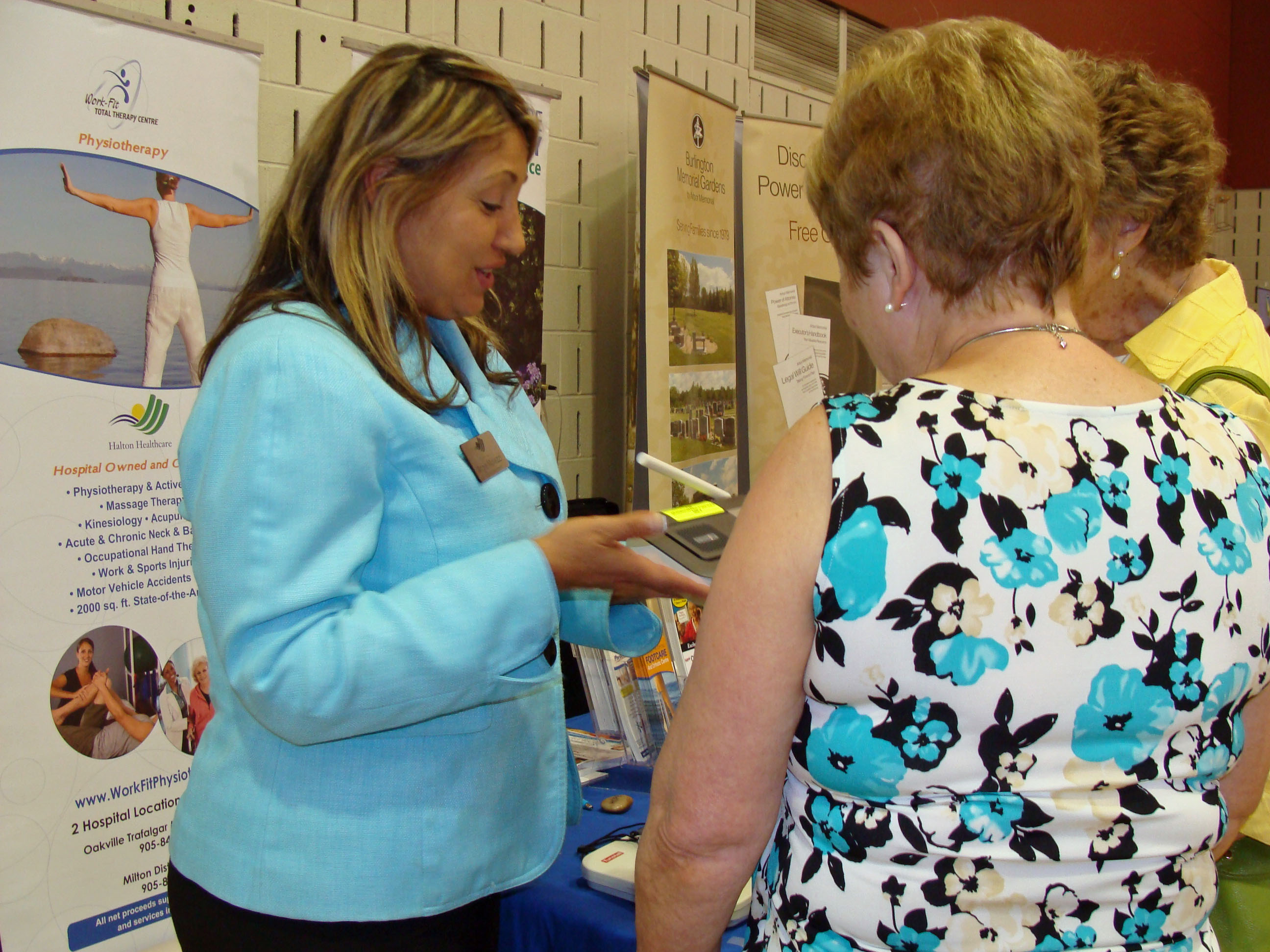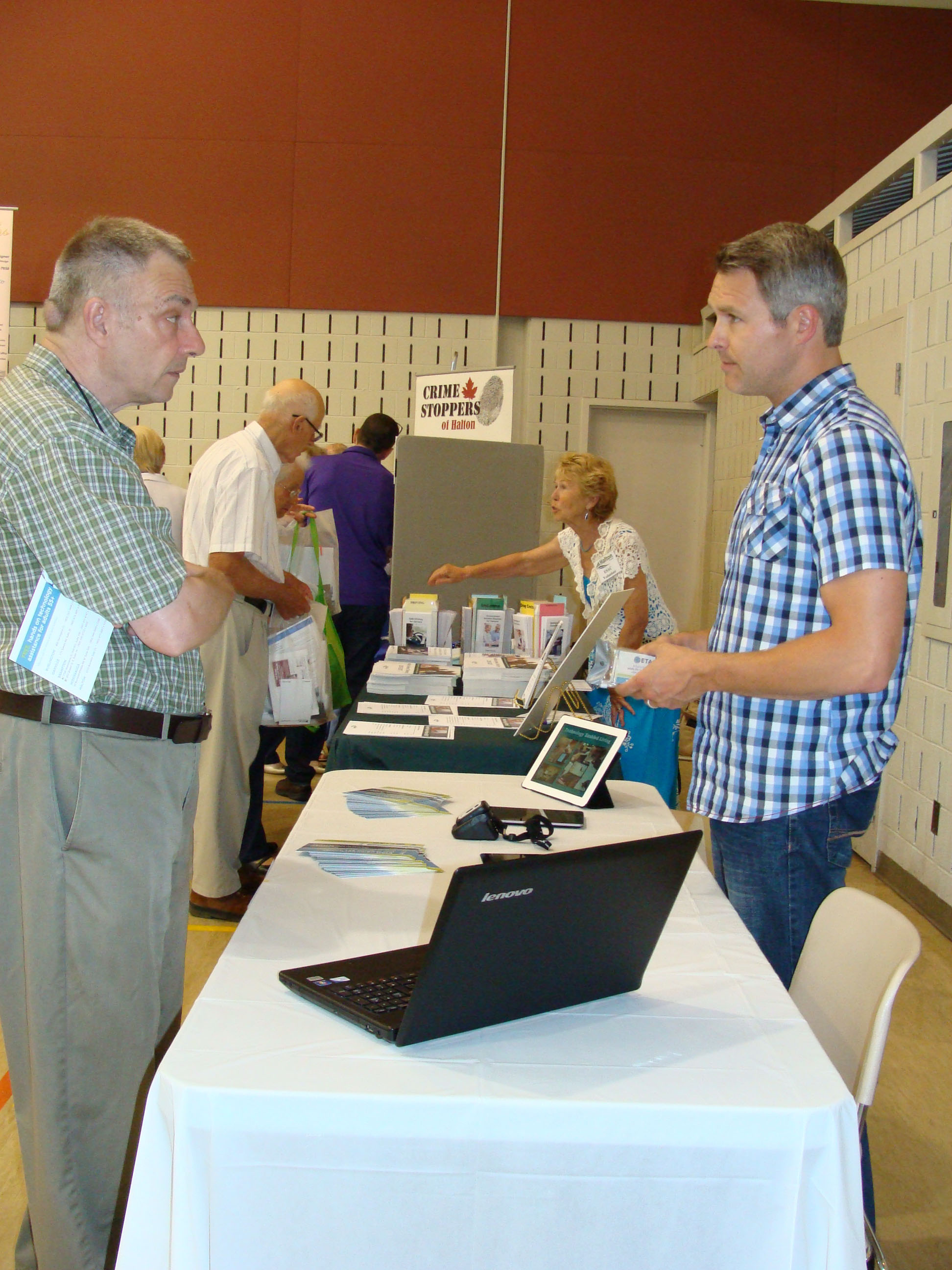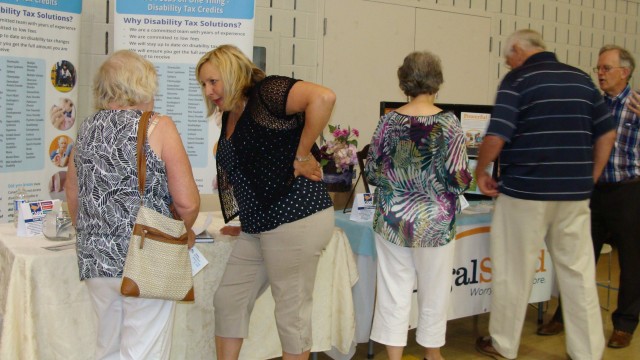 Martin Pangan  and his easy listening musical style and excellent repertoire of well known songs once again provided the background entertainment.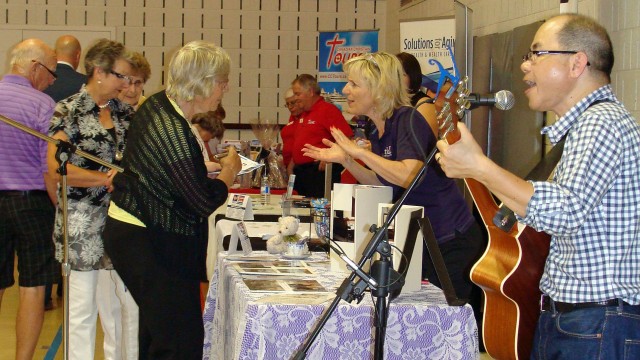 The main program began at 6.45pm with  a welcoming address by Chapter Chair Tom Carrothers. Halton Region Chair Gary Carr was not able to be with us in person this year however he did send his congratulations to our Chapter and an official welcome to everyone in attendance which Tom read out.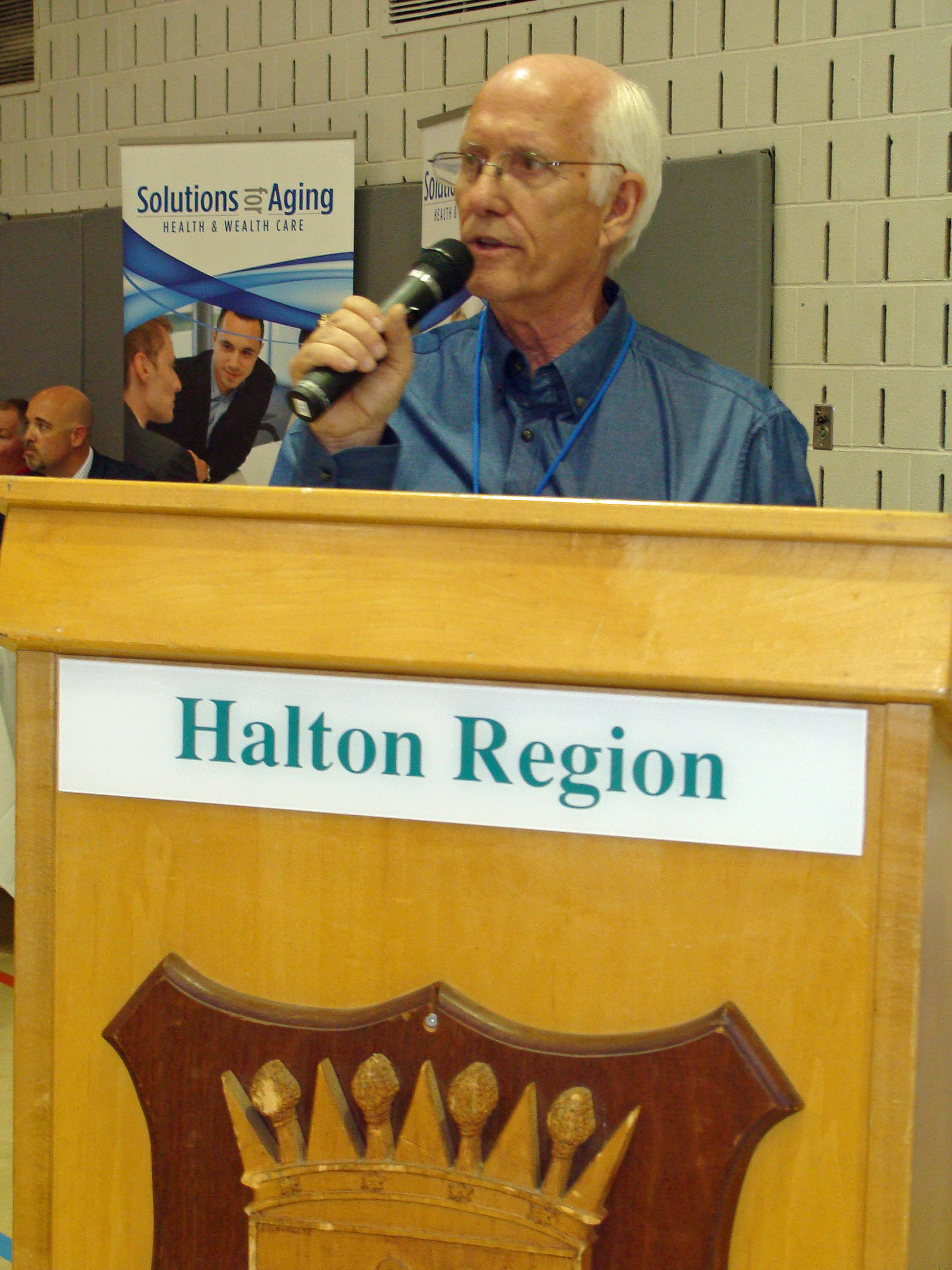 Anthony Quinn, Director of Community Development, who is also a Halton resident,  welcomed everyone on behalf of our National Office. He had particular praise for the work our Chapter is doing within the community and for the excellent support we get from our members, not only for this celebration but also for our ongoing monthly community meetings. In his work across the country he holds Halton Chapter up as a model for other Chapters.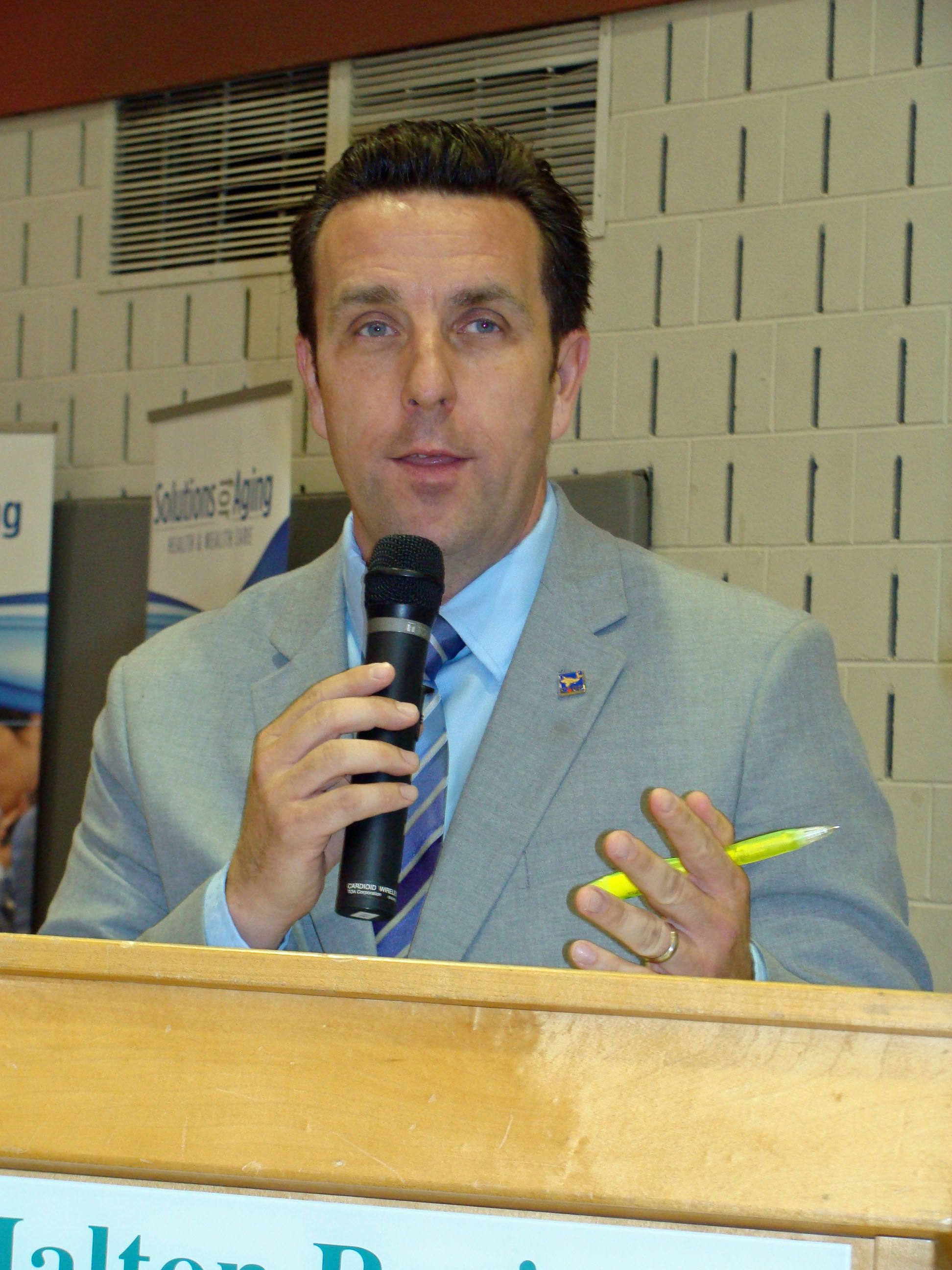 The Chapter would not function without it's volunteer Board of Directors. Tom introduced them all and thanked them for their hard work in making the Chapter so successful. Pictured below from L to R are Tom, Keith Hancock (website/newsletter), Myrna Penny and Pat Kachur (sponsorship/advertising), Hugh and Eleanor Cass (membership), Doug Wells (program), Barbara King (secretary/treasurer) and Mike Lansdown (advocacy).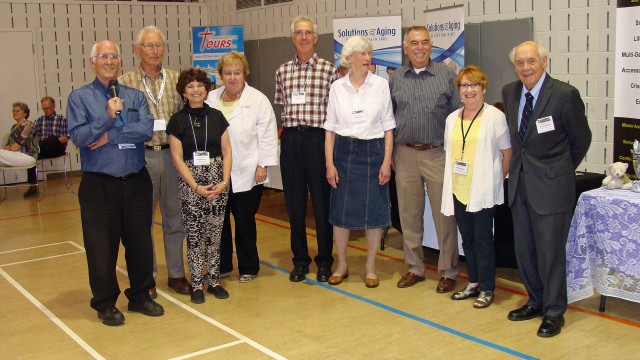 Hugh and Eleanor Cass will be stepping down this year and in recognition of their contribution over many years Barbara King presented them with a Gift Certificate to the Keg.
Silver Sherpa will be bringing the movie "Cyber-Seniors" to Oakville over the next few months and Halton Chapter has partnered with them to present it on behalf of Chaper members at the Queen Elizabeth Park Community Centre on October 4, 2015. Susan Hyatt CEO of Silver Sherpa showed a trailer and told us a little bit about this delightful look at how seniors are coping with all the new technology. More details can be found about this elsewhere on this website. This movie is highly entertaining and not to be missed.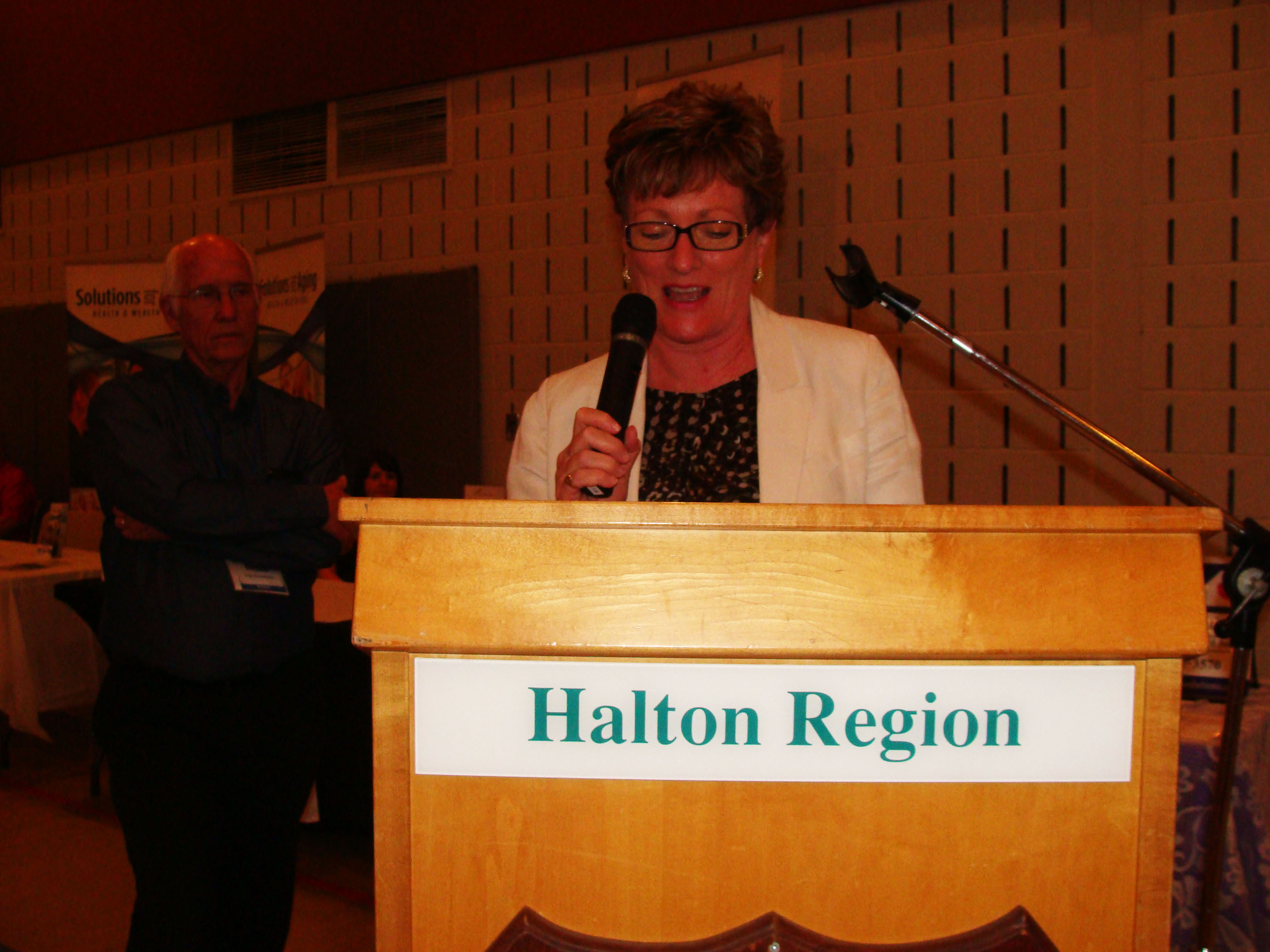 Our featured speakers were Lucy Marco, seen with the microphone,  and Jean Kincade who have extensive background in Community and volunteer services. They provided a very inciteful look at what "age friendly" means to cities and communities. In Halton we are well placed with Oakville, Burlington and Halton Hills having embraced the concept and making great strides in making these communities "age friendly". Lucy made the point that we all have a role to play. Don't just leave it to the politicians. By speaking out when we see a need we can all have a positive impact on changing things for the better.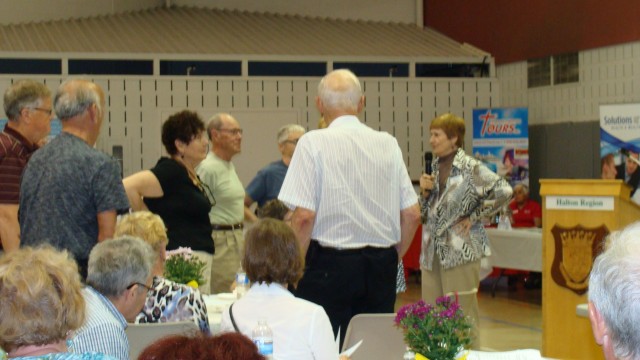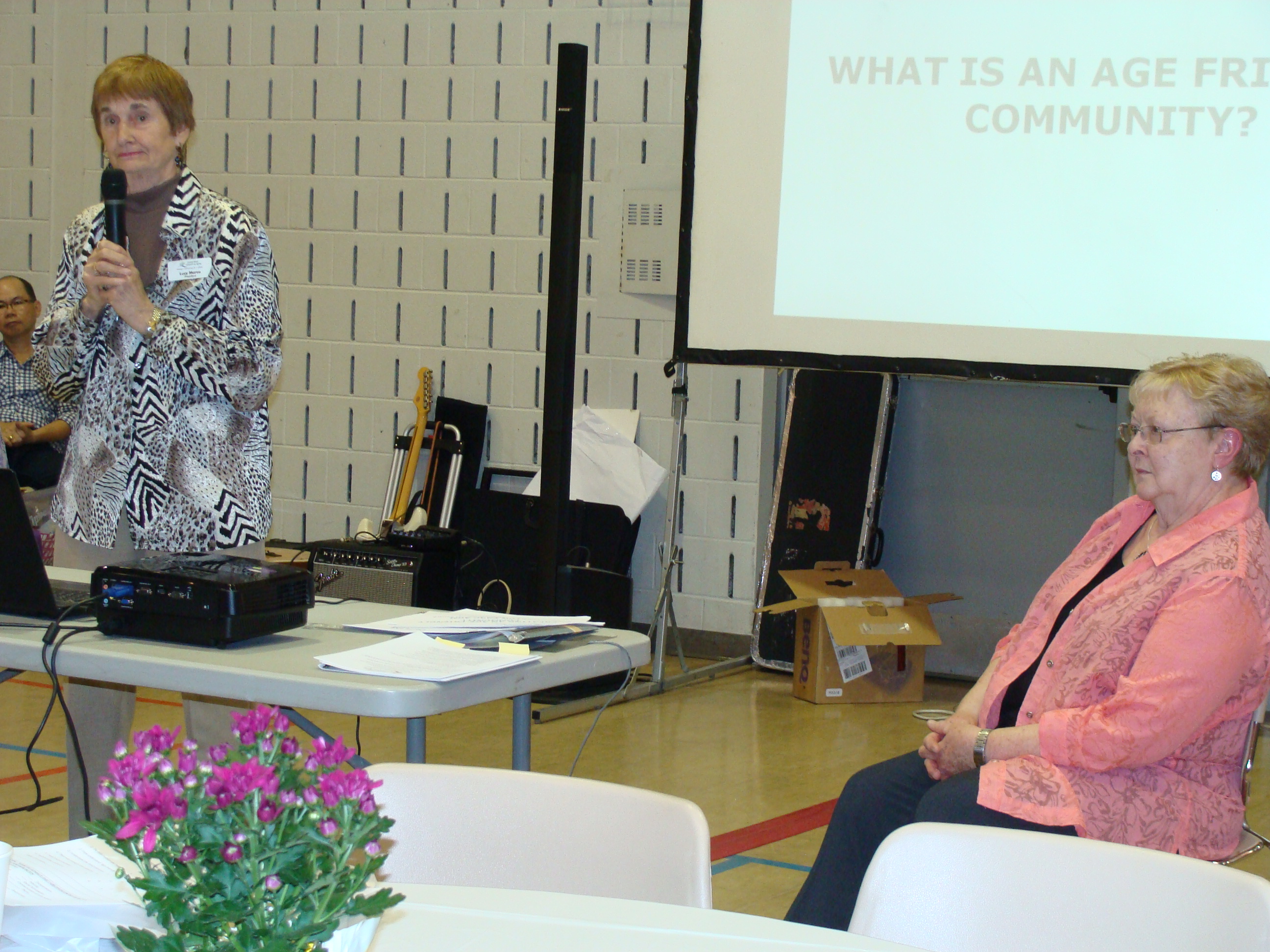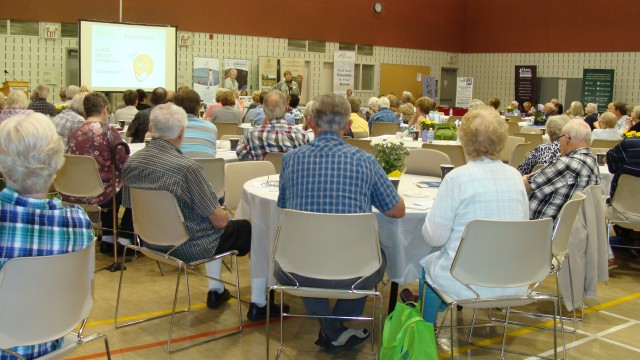 Our evening came to a close with our prize draws. First up was the 50/50 winner Colombo Bruno seen here receiving $144 from Hugh Cass.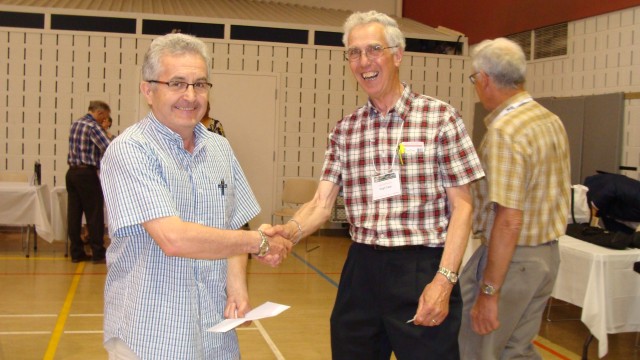 Our sponsors came together to present two gift certificates for a trip with Canadian Christian Tours. Winners Hilary Carver, on the left, and Debbie Reid receive their prize from Doug Campbell.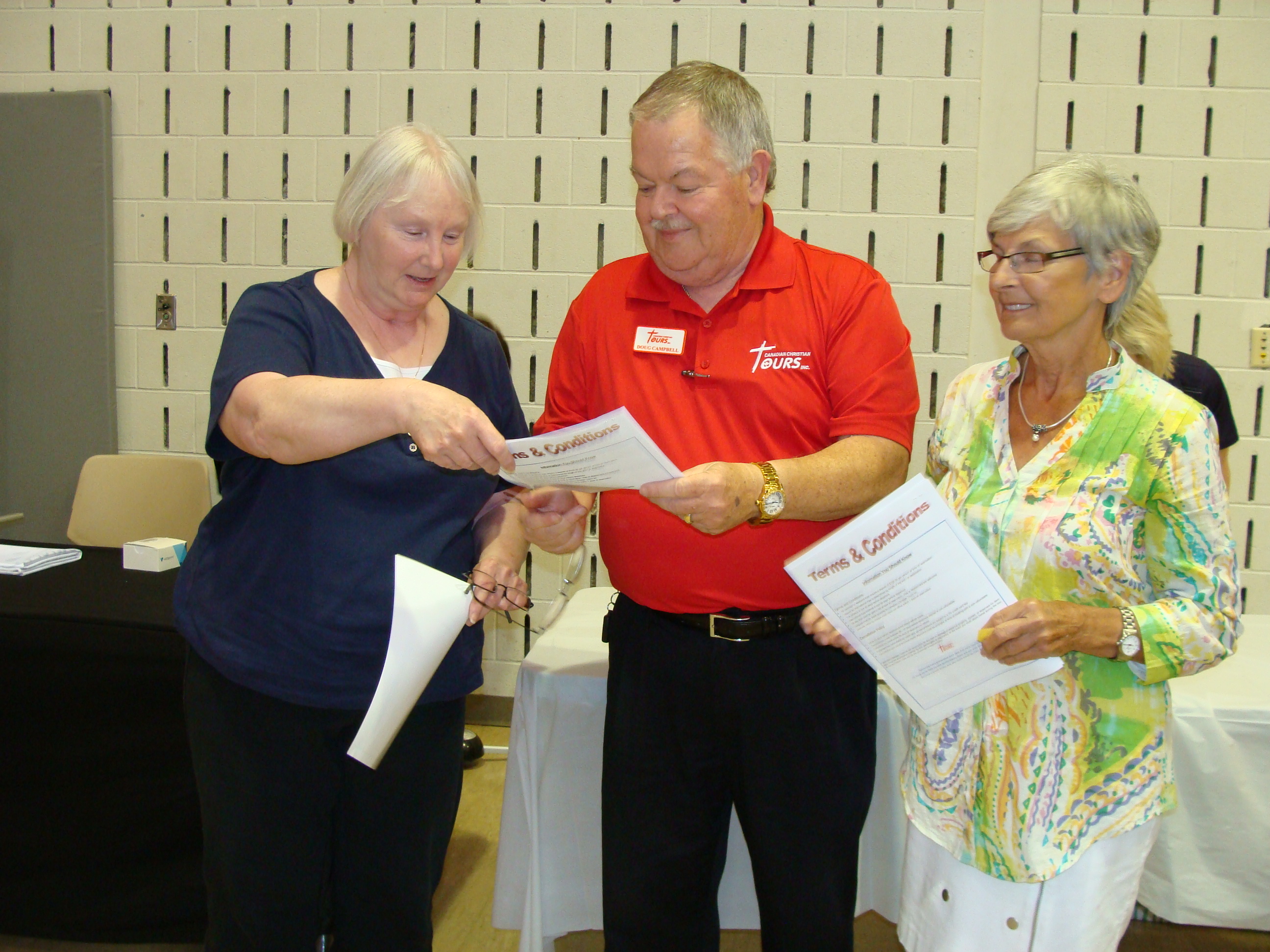 A number of our sponsors also had their separate draws and winners included Ruth Anstice (Canadian Christian Tours), S Birchard (Burlington Orthotics), Sally Romanowski (Retire at Home Services), Brent Gassson (Silver Sherpa), and Zenia and Don Morrier and Linda Swift (Silver Wave).